This new item of the month was inspired by a piece of direct mail I received last spring. Here's a picture of the entire package: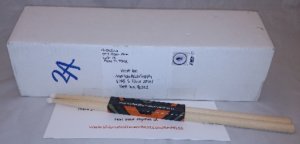 The box had a hand-written address label, and inside a pair of drum sticks, how clever! Also included was a small sheet on card stock with the message:

I love the use of the personal URL (PURL), and the drum theme and personalization carried over to the landing page of the website which you can see below or simply visit the PURL listed above to check it our yourself.
I don't like the short message printed on the card stock paper. As you know I'm a big fan of long copy, so I took the liberty of writing an introductory sales letter for them, which you can see at this link here.
It's simple, just a single sheet, but tells them a little more about what they will learn if they visit the site, plus another incentive, in this case a free gift, just for clicking over to the site.
I would also change the box to an envelope which will cut the overall cost of the mail package and drop their postage rate about $1.50.
I do like the box, and I'm not against spending more money if I think the added cost will boost response and ROI, but I think you can get 99% of the same "bag for your buck" with the envelope.
I love to use of the drumsticks to "dance to a different beat" to sell against the 600-pound Gorillas in an industry. This is a shipping and logistics company, selling against UPS, FedEx, USPS, among others.
Competition is fierce and the "little guys" often need to do things that the big boys would never consider in order to stand out. This is a perfect example.
If you have your own "600-pound Gorilla" in your industry or geographic area that you're constantly bumping into, consider using this piece to cut the clutter and let your prospects know how you're different!
Or, use this as a way to explain how an otherwise unorthodox method may be the solution they are looking for (Hey! Like 3D Mail!)
The postage for the package is $3.50 for first class mail. You can cut your postage rates 35-60% of you send pre-sort mail, either Pre-Sort 1st Class, or Pre-Sort Standard (a.k.a. Bulk) and send at least 500 pieces.
Blog Reader's Only Special
You didn't think I'd highlight our new item and not have a special on it, right?
Right now, the Drum Sticks are 10% off. Just use promo code beat10 upon checkout. Click here to order online or call us at (888) 250-1834 or (360) 761-7486.
But do it now, the offer expires on Oct. 12, 2018.
That reminds me… We can do the entire fulfillment project for you, just give us a call, 888-280-1834 and we can give you a quote, or go here to give us your information.
Go here to get the special pricing, you just have to do it before 5 PM on Oct. 12, 2018 and use promo code beat10.