Do you and your product/service have magic power? Of course not… But it can certainly appear that you possess magical powers. This is a great campaign if you have the solution for hard to solve problem.
Or, if you have a solution to a problem that's much easier than what the prospect is currently using.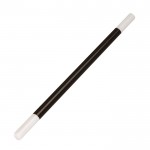 This would be a great grabber to use for either a lead generation campaign, or to a list of leads and/or past clients.
Here's the letter we sent along with the magic wand.
Here's the envelope we used to mail the entire package.
Read to the bottom of this email to see four more examples using the magic wand.
It also works great for a "magic" themed campaign for your products, services and events for your business.  That's where we used it. This mailing is going "pre-event" to the attendees of the GKIC Super Conference.
The entire event has a magic theme, headed by famed magician and entrepreneur Penn Jillette.   This is our way of entering the conversation already going on in their mind (the Robert Collier Principle).
GKIC spent a lot of time and money to create that image and conversation. We'd be foolish not to attach ourselves to it. I encourage you to read through the letter now before reading further so you get an idea for the letter.
Keith has a breakout speaking session at the Super Conference and we wanted to be sure the room was packed to the gills.   We did similar letters with similar offers at two other events over the years, with great success, pulling in over $100,000 in sales. This strategy has served us well.
Get creative with your headline and be sure you tie in the wand with the copy to be sure all the connections are made by your reader.
Below are a few samples headlines you can use for magic wand.
"It's Not Magic!"
"It Will Feel Like Magic When You ____________!"
"Make Magical Things Happen In Your Business."
"Make Magic Happen When You _________________."
A one page letter with the magic wand is 1.4 oz., making the 1st class postage $2.54 for any weight under 3 oz.   You can decrease your postage rates 25-60% if you're sending pre-sort standard (a.k.a. bulk) or pre-sort first class and sending at least 250 pieces.
Marketing Tip Readers Only Special
You didn't think I'd debut a new item and not have a sale on it, right! Of course not. Until Oct. 30 at 5 PM PST you can get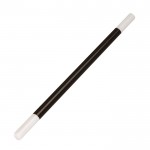 15% off the brand new magic wand mailer!   Use promo code magic to redeem today!
Here are four additional letters you can use as the basis for your letter using the magic wand:
Just use promo code magic to redeem right here.
To Your Direct Mail Success,
Travis Lee